My Manic Mondays are intended to share little snippets about myself, and folks, here's the deal…
March was yet another continuation of a mad reading binge that began for me back in February. No, I don't sit around and read all day! As a busy wife and mother, who really has time for that??? Not this gal, but somehow I've managed to cram it all into my schedule.
Why is it that you either find yourself in a total reading slump or jumping obsessively from one book to the next? It's so freaking unexpected when it happens, and it can actually be pretty frustrating on both ends of the spectrum!
A lot of my 'marathon reading' has been due to the fact that there have been a ton of great releases lately. I've also started listening to audiobooks, so I'll usually have one on hand for those times when I'm not actually able to sit down and read. These, combined with my determination to get caught up with all the books sitting on my to-be-read pile, have really kept me moving along!
As I've been flying through these books, I also haven't had the time to sit down and properly write the full reviews that I feel they deserve. The guilt… On top of that, the 'I'll get back to them and do them later in the week' has completely surpassed their appropriate timeframes. Although I take really good notes when I read, trying to write reviews from weeks out has my thoughts a bit 'fuzzy.' Double guilt…
Lastly, due to my crazy obsessive and over-analytical ways, I am also quite terrible at writing short reviews. Dun, dun, dun… I just don't want to leave anything out! I'm sure you've noticed, but there, I finally admitted it. That's the first step, right?
LOOK! ⬆️ ⬆️ ⬆️
First gif (or meme?) in a post! I am not a 'Gif Girl', so this is actually pretty fancy for me. BUT it is my boy J.T. and all…
Anyway, this whole ordeal is just really out of hand, and I'm not sure if it's an apology or a commitment, but I'm going to have to do some 'Short and Sweet Reviews' to clear my slate. I'll only do a few of them at time, and it's not to take away from the books at all. Some I really enjoyed and others not as much, but it's mainly just to keep my brain from exploding from my to-do list!
I'm really on a roll with this now! ⬆️ ⬆️ ⬆️
So, without further ado…
*✿༻༺✿*
Vicious (Sinners of Saint) by L.J. Shen
My rating: 4 Stars
Synopsis:
Emilia
They say love and hate are the same feelings experienced under different circumstances, and it's true. The man who comes to me in my dreams also haunts me in my nightmares. He is a brilliant lawyer. A skilled criminal. A beautiful liar. A bully and a savior, a monster and a lover.
Ten years ago, he made me run away from the small town where we lived. Now, he came for me in New York, and he isn't leaving until he takes me with him.
Vicious
She is a starving artist. Pretty and evasive like cherry blossom. Ten years ago, she barged into my life unannounced and turned everything upside down. She paid the price.
Emilia LeBlanc is completely off-limits, my best friend's ex-girlfriend. The woman who knows my darkest secret, and the daughter of the cheap Help we hired to take care of our estate. That should deter me from chasing her, but it doesn't. So she hates me. Big fucking deal. She better get used to me.
I read Midnight Blue and really could go on quite a bit about the many ways that I absolutely loved it! I knew right away that I needed to read more by L.J. Shen, and immediately flew right into Vicious. Although I didn't love it quite as much, this was definitely a really good and interesting story!
Shen really has an incredible talent in writing unique and intriguing storylines. I am also impressed with her ability to create complex and total asshole alpha males and unbelievably turn them into charming and lovable heroes. That was pretty much Vicious in a nutshell, because he was such a jerk. I loved that Emilia was strong, thoughtful, and so kind-hearted, and yet she made for the perfect match to bring him to his knees! Deep down, Vicious was pretty sweet and caring.
This was a slow tell for me in how both the story and my feelings for Vicious would play out, but in the end I really enjoyed this read!
*✿༻༺✿*
Signed by Marni Mann
My rating: 2.5-3 Stars
Synopsis:  
Rule Number 1: Do Not Sleep with Clients 
I was the best agent in the industry. More ruthless and cutthroat than any arrogant bastard you'd ever met.
The top actors in Hollywood came to me to get signed. 
When I saw James Ryne, America's Sweetheart, standing across the bar, I wanted her body like I'd never wanted anything before. 
I broke rule number one.
But, after all, I was a man. No one had ever mistaken me for a saint.
Rule Number 1: Do Not Fall in Love Again 
I didn't know his name. I didn't who he was. All I knew was that he was deliciously handsome and he had to be someone to get into the most elite bar in LA. 
He was too old for me, too experienced—the kind of man everyone warned me about. It was only supposed to be a one-night stand. I could have walked away. I should have walked away.
And then I was forced to walk away when my scandal hit the tabloids.
I broke rule number one and now I had to make the biggest decision of my life.
Risk my heart or get signed.
Signed was a hard call for me in the rating scale…
James and Brett were okay characters for me, but other than the sex, I didn't really feel much of a connection between them. I also thought it strange that there were so many references to James being so much younger than Brett. Obviously she was younger (she was eighteen), but I think that could have been okay since James was very mature in the story. However, calling it out as inappropriate so much made it seem like it was wrong or creepy. I enjoyed the Hollywood storyline, but there didn't seem to be a lot of 'story' to the story to really keep me engaged very well.
Overall, I thought this was an okay read for the majority of the book but actually put it down several times with intentions not to finish. I went ahead anyway and was pleased that around about 70%, there was a twist which made the story more interesting. I also began to feel that Brett and James shared more of a true relationship toward the end, and I also enjoyed their happily ever after.
So, I don't know, it just didn't totally win me over. I think the story had a lot of potential and the writing was good. I just wish there was more to it early on. This is my first read my Marni Mann, and I see Jack's story in Endorsed and will probably give it a go!
*✿༻༺✿*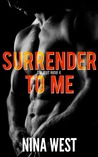 Surrender To Me (The Wolf Hotel Book 4) by Nina West
My rating: 4 Stars
Synopsis:
Book Four in the highly addictive, sinfully sexy The Wolf Hotel series… 
Abbi Mitchell has battled her family and won. She finally has what she wants most—Henry Wolf, committed to her and within arm's reach most nights. 
But now she must face his family. 
In the wake of tragedy, Abbi and Henry travel to New York to sort out his father's affairs. What should be straightforward and quick turns out to be anything but, as a vindictive brother angles for more than his fair share, putting Henry and Abbi to the test
('Surrender To Me' is the stunning conclusion to the sexy, addictive The Wolf Hotel series. Reading order: 'Tempt Me', (previously titled 'Wolf Bait'), 'Break Me' (previously titled 'Wolf Bite'), 'Teach Me' (previously titled 'Wolf Prey'), and 'Surrender To Me'. Additional novella, 'Ronan', is also available)
Surrender To Me was a great conclusion to Henry and Abbi's whirlwind romance and journey of maturity, sexual growth, and learning to trust and love. Their characters grew so much throughout this whole series, and I really loved them both. Although I questioned their relationship at times, I was so happy to see that their adoration, respect, and confidence finally came to fruition, and they found their truly sweet happily ever after!
West did a great job writing this complex storyline and bringing even more twists and turns into play. It was perfect that Henry and Abbi went back to Alaska where they first met, and I enjoyed seeing the past characters from the previous stories as well. I've mentioned before that West can seriously write some very sexy and steamy love scenes, so this is not for the faint-hearted or sexually closed-minded reader. However, I really enjoyed that it had a great story behind it which was quite addictive and consuming!
I would definitely recommend this whole series if you are looking for a fast paced read, full of sizzling passion and a very suspenseful story!
*✿༻༺✿*
Bad Things (Tristan & Danika) by R.K. Lilley
My rating: 2.5 Stars
Synopsis:
Danika hasn't had an easy life. Being insanely attracted to bad boys has never helped make it easier. 
One look at Tristan, and every brain cell she possessed went up in smoke. This man was trouble with a capital T. It was a given.
She knew better. Bad boys were bad. Especially for her. Considering her history, it was crazy to think otherwise. So why did crazy have to feel so damn fine?
For as long as she could remember, Danika had been focused on the future with single-minded purpose. Tristan came along and taught her everything there was to know about letting go, and living in the present. She fell, hard and deep. Of course, that only made her impact with the ground that much more devastating.
Bad Things is about Tristan and Danika, and their train wreck of a love story. This series can be read as a standalone, or with the Up in the Air series.
Bad Things is my first read by R.K. Lilley, and I've really been looking forward to her writing after hearing so many amazing things about her. However, I really wish I had started with a different book/series. After seeing so many excellent reviews, I realize that I'm probably the only person on the planet to not love this read, but my overall feelings from this just didn't settle right with me.
I can't really fault the writing, and I got off to a great start with both the story and characters. The storyline was fresh and intriguing and had a fast-moving pace. Unfortunately, I think that Tristan and Danika's volatility just wore me down. I didn't like how their characters evolved throughout story, and their relationship just felt toxic to me.
When I finished, I realized there are two more books in their story, and I'm just not up to it and going to tap out on this series…for now. It's probably a case of 'it's not you, it's me' or timing, and I will seek out another selection by Lilley. Being that I'm also a 'curiosity killed the cat kind of girl', I might even end up doing a re-read on this at some point just to see if I've lost my mind. We'll see!
*✿༻༺✿*
Are you in a reading binge or reading slump right now?
How are you handling it?
*✿༻༺✿*
Have you entered the 'Spring Has Sprung' Bookworm Box GiveAway???
There's still time! Click here to enter for your chance to win a free Bookworm Box!
Winner will be announced on Monday, April 16th!
*✿༻༺✿*
*✿༻༺✿*
*✿༻ Facebook ༺✿*
*✿༻ Twitter ༺✿*
*✿༻ Instagram ༺✿*